Information Technology Services (ITS) provides a private Cloud storage, a file, and document sharing utility similar to the popular Dropbox, for use by the ICTS community.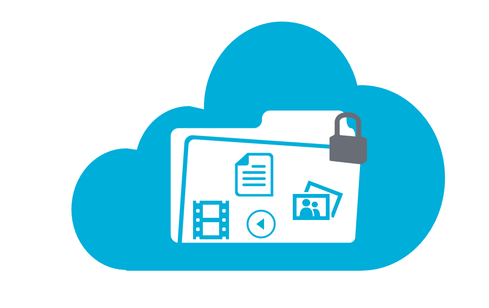 The utility supports storing and sharing of files, images, documents, contacts, and tasks etc. It also supports version control and syncing with Windows/Linux/Mac desktops, Android and iOS-based devices.
The ICTS private cloud is based on an open source, self-hosted file share and communication platform i.e Nextcloud. Please see Nextcloud features page for details >>.
Currently, all ICTS-One-Account users have 500GB of available storage.
The cloud web portal is available at  https://cloud.icts.res.in from both within and outside ICTS campus.
Note: The cloud storage service will be running as the beta version for next couple of days. If you encounter a bug in the cloud service, please report it to us.
Sync your data
Connect to ICTS cloud with Nextcloud clients for all your devices:
Install Nextcloud Client
Connecting to ICTS Nextcloud server
Once installed, open the Nextcloud client (search for it in your desktop menu). When you now launch the program, the first step is to connect it to ICTS cloud. It will ask you for the "Server Address", please enter cloud.icts.res.in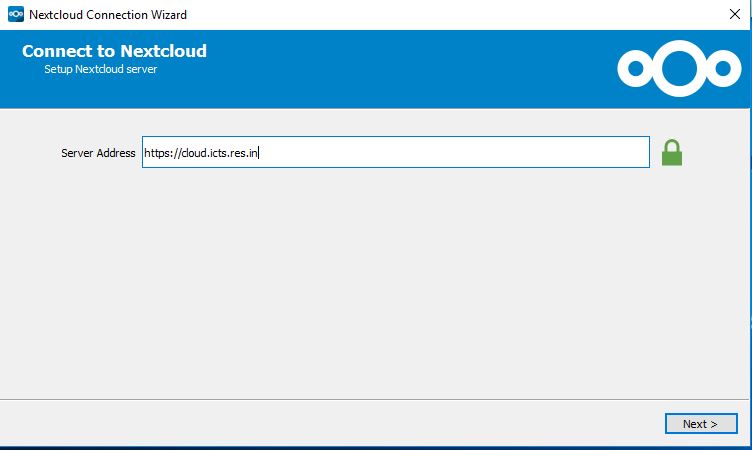 Enter that and click "Next" and then enter your ICTS-One-Account Username and Password.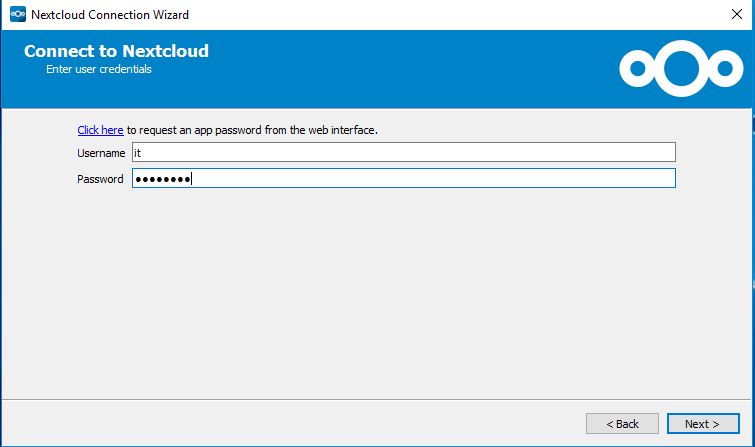 If you get those right, then the wizard will ask you if you want to sync everything or only certain files, and it will allow you to specify which folder on your PC to use to sync the files. Set those up as you like and then that's it.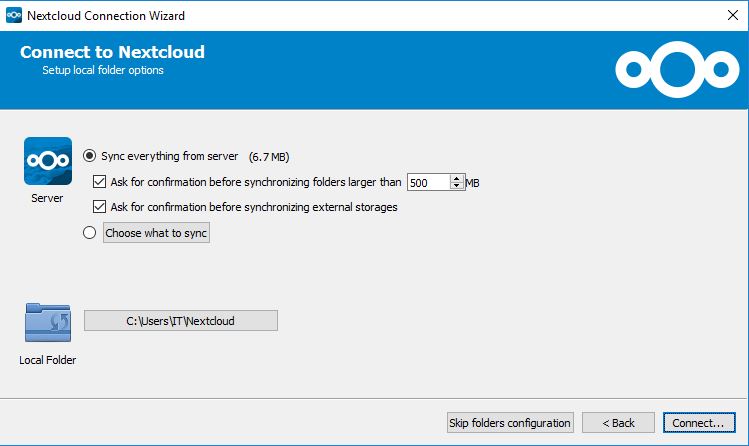 Click on "Connect" and you're good to go.
You will be presented with the option to open Nextcloud in either a browser or a local folder. The local folder option will open your file manager in the directory you configured for syncing. Any file or folder you add to the Nextcloud folder will automatically sync with your account on the Nextcloud server. Because the sync is two-way, anything you add to your Nextcloud account on the server will automatically sync to your desktop).